As you are quietly sleeping on the operating room table or tucked into a hospital bed, there is a beehive of activity going on behind the scenes. Your overall experience as a hospital patient goes way beyond the physician who is ultimately responsible for your care.
As you are quietly sleeping on the operating room table or tucked into a hospital bed, there is a beehive of activity going on behind the scenes. Your overall experience as a hospital patient goes way beyond the physician who is ultimately responsible for your care.
Dedicated teams of men and women in clinical and non-clinical roles are working all day and all night to make a positive impact on your ability to heal. You may never see them or perhaps you will catch a glimpse of them at work but never really understand how important their role is in the delivery of careful, compassionate and high quality health care.
Clean – A Special Kind of Care
"When people are faced with a stay in the hospital it can be difficult to adjust. It takes them out of their comfort zone and strips them of their routines," notes Rick Rheinheimer, chief clinical officer at Kindred Hospital. "It is important to be cognizant of each patient's lifestyle and provide them with some semblance of normalcy."
Diona Brown, vice president, Patient Care Services and chief nurse executive at Memorial Health Care System adds, "The goal is always to provide safe and reliable care, and that means everybody does their part. Supplies and equipment must be ready, the right medications must be available at the right time, the appropriate staff members must be in place and everything is focused on positive outcomes for the patient."
One of the key locations where this is true is the operating room. You may only remember a pair of eyes looking down on you over a surgical mask as you drift into anesthesia- induced sleep, but the O.R. nurse has become your champion.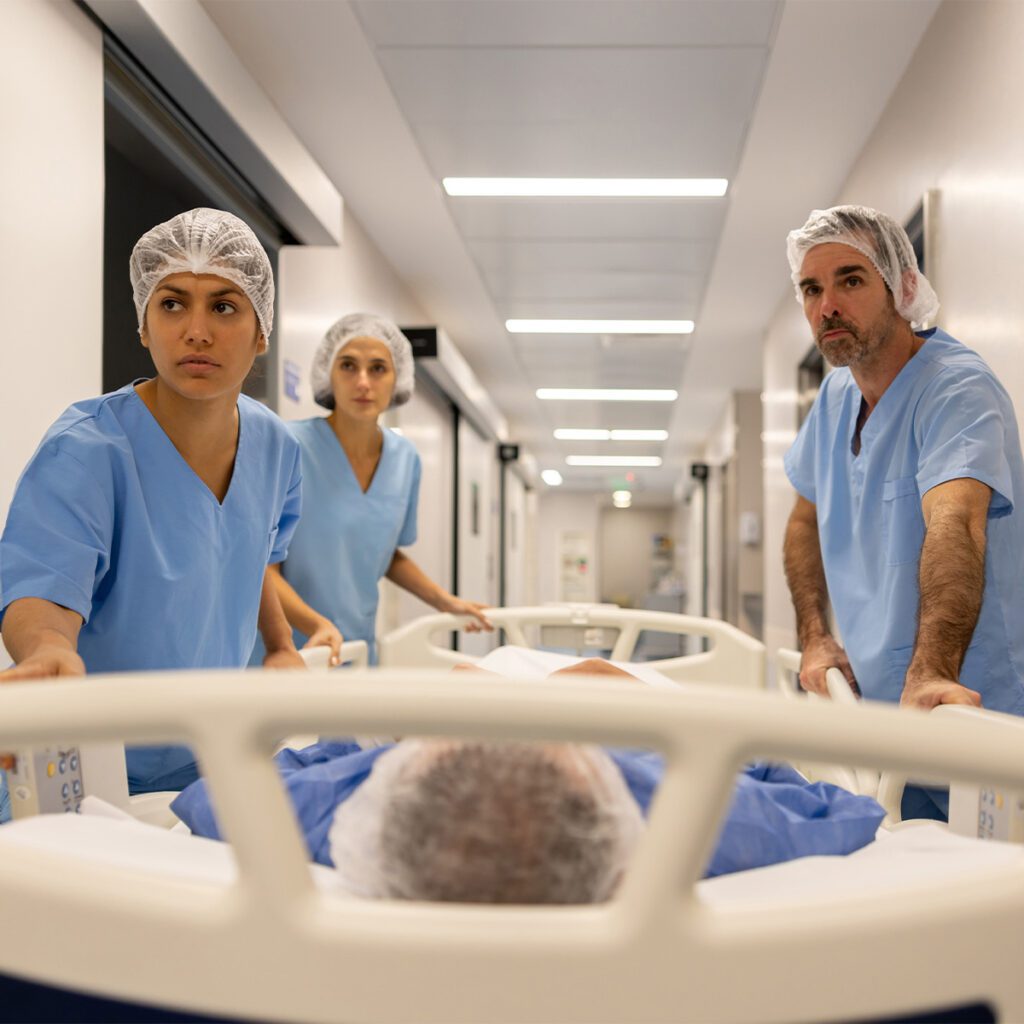 "When the patient is asleep and void of all their reflexes it is the O.R. nurses who are the ultimate patient advocate," says Lynn Whisman, senior vice president and chief nursing executive at Erlanger Health System. "They are responsible for staging things so all goes well, the sterile environment is maintained and the risks to the patient are minimized."
Before you ever get to the operating room the surgical instruments have been carefully prepared by people who will never know your name. The folks in Central Sterile provide a very basic but extremely critical part in the success of your surgery, and the length of your recovery by washing and sterilizing the tools your surgeon will be using.
"O.R. instruments must be cleaned, inspected and assembled into trays for your specific surgery," explains Debbie Reeves, chief nursing and quality officer for Hutcheson Medical Center. "Each surgeon has a preference list for what they use in each type of surgery, and our staff members must be sure the correct tools are available and functioning well to avoid delays and are sterilized to reduce infection rates for the patients."
Personal grooming and patient comfort is provided by someone you see, but may not really understand their role. The patient-care technicians, also called certified nursing assistants (CNA), are often mistaken for nurses because they are working side by side with nursing staff and physicians to monitor patient needs.
"Patient care technicians provide comfort and care with bathing, assist patients with bathroom needs, change the sheets, help patients change position in the bed and make sure they can reach everything," Underwood explains. "They must be good listeners and are often reading the body language for those who cannot clearly articulate their needs about being in pain or needing assistance." In this role the CNA is collecting information, which is shared with the nurses and physicians who are making decisions about the patient's clinical care.
Reading body language and assessing pain is also a function of the nurses in the Post Anesthesia Care Unit (PACU) who remain unnamed and barely remembered, yet are serving a critical function in your recovery. These men and women are watching closely as you wake up after surgery to ensure a successful and pain-free transition to your assigned room or back to the outpatient surgery recovery area.
"Most nurses in the PACU have a critical care background, which is going to benefit the patient as they come out of surgery," Reeves at Hutcheson assures. "In addition to taking vital signs, monitoring fluids, maintaining airways and managing pain, they are watching over many patients who have other medical and aging issues that complicate their ability to recover from anesthesia."
During your hospital stay there is one group of professionals you will have the opportunity to get to know — the Nutrition Services staff. You may believe they are simply arranging for meals to be delivered, but it is a personalized process that can benefit you in the hospital and after you return home.
"Nutrition has such an impact on the healing process and sometimes good nutrition means less medication is needed," says Whisman. "From the tiniest preemie to the 100-year old geriatric patient nearing the end of life, good nutrition can make the difference."
Clinical dieticians carefully review your unique health issues and then prepare a specific meal plan to promote healing and avoid negative interactions with medications you may be taking. After surgery your ability to return to solid food may be a gentle process best managed by experts who can help ease the transition with the fewest side effects. Patients with chronic health issues like diabetes or heart disease will receive education for changes in eating habits that can boost long-term health.
The tools of technology have been part of the health care scene for decades but never more persistent than today. From electronic identification systems and simulation labs to the most basic inventory maintenance systems, technology keeps supplies flowing to the front lines.
Pharmacists are the unsung heroes who manage your medications through electronic medical administration records, or eMAR, according to Underwood at Parkridge. "Patients receive a bar-coded arm band when they first enter the hospital. Their prescribed medications are given the same bar code when ordered from the inpatient pharmacy. When the nurse pulls the medications from the medication tower, they scan the medication order sheet, the patient arm band and the medication itself. All three must match, or an alarm sounds."
High-tech simulation labs at Erlanger offer physicians, nurses and technicians a chance to work together in prepared clinical settings representing the operating room, emergency room, and labor and delivery room. "We are a teaching hospital offering a multi-disciplinary approach to education," says Whisman. "We have the unique ability to practice specific patient-care techniques in a safe environment."
Perhaps one of the biggest contributors to the beehive of activity is the ongoing provision of medical equipment and supplies. Materials Management personnel keep a wide variety of supplies within reach for the various hospital departments. This is a challenge because hospital supplies can be very expensive. Often they are working with "just in time" inventory, maintaining a delicate balance between available budget and the importance of putting the right tools in the hands of the clinicians.
"For the average patient I think it is unimaginable how many people are contributing to great patient care within a hospital setting," says Brown at Memorial. "It takes a true team working together, communicating constantly and orchestrating the care plan to make sure it all comes out well for every single patient."
Rheinheimer adds, "If it means a staff member runs out to get a cake for a patient on their birthday, the goal is to go the extra mile and give more than is expected."
Remember the television commercial where the customer has a crowd of company technicians standing behind him? When you enter one of the Chattanooga area hospitals you have an army of caregivers linked together and focused on you, putting hope and healing within your reach.
Barbara Bowen is a Chattanooga resident with a Mass Communications degree from Middle Tennessee State University. She serves on the PTSA Board for Chattanooga School for the Arts and Sciences, and is a member of the Chattanooga Women's Leadership Institute. Barbara and her husband have four children and four grandchildren.