Medical Advancements Meet Specialized Long-Term Care
While modern medicine continues to develop more advanced treatments for serious illnesses, patients are surviving and living longer. However, life with a still-to-be-curable illness and longevity gained from advancements in medicine can involve significant limitations or extended health challenges that require longer-term quality care. This growing need is being met by palliative care, a field of professionals who operate to meet the needs of patients (both adults and children) and families dealing with the effects of life-threatening diseases.
By Mike Haskew
What is Palliative Care?
Dr. Valencia Clay serves as the Hospice and Palliative Medicine Fellowship director for Hospice of Chattanooga, which operates Palliative Care Services, a service of Hospice of Chattanooga. Dr. Clay's perspective on palliative care is one of comprehensive treatment involving both patients and their families to improve the quality of life.
"The nature of palliative care is that it is not designed to be curative but to relieve and manage symptoms. Non-terminal palliative care at Hospice of Chattanooga is provided by Palliative Care Services (PCS), and care at PCS may be separate from pre- or post-hospice admission. A non-terminal patient may be referred by their physician, or they may self-refer to PCS. Palliative Care Services provides supportive care to patients with terminal illnesses who are not yet ready for hospice, to transition them and their family emotionally, spiritually and physically into End of Life (EOL) care. Patients who are initially deemed terminal, meaning less than six months expected survival, but improve and 'graduate' from hospice may be referred to PCS for continued follow up. This allows continuity of care and provides additional support to patients and families as they transition out of hospice care."
Carol Fitzsimmons, LCSW/MHP, a licensed clinical social worker and mental health professional who works closely with other professionals at Hamilton Hospice in Dalton, explains, "Palliative care is an approach that improves the quality of life of patients and their families facing the problems associated with life-threatening illnesses. It prevents and relieves suffering by means of early identification, impeccable assessment and treatment of pain and other problems – physical, psychosocial and spiritual."
According to Fitzsimmons, palliative care provides relief from pain and other distressing symptoms while affirming life. Palliative care regards dying as a normal process, but intends neither to hasten nor postpone death. It integrates the psychosocial and spiritual aspects of patient care, offers a support system to help patients live as actively as possible until death, and provides a support system to help the family cope during the patient's illness. Using a team approach to address the needs of patients and their families, palliative care can include bereavement counseling if needed.
Palliative Care – Hospice Relationship
Palliative care differs from traditional hospice care in several notable ways. For example, hospice care involves the continuous treatment of patients with life-limiting conditions. Its goals include keeping patients comfortable, free from pain and symptoms as much as possible, and accepting death as the inevitable outcome of the illness. In contrast, palliative care may be brief in duration and relate to a specific symptom of a life-threatening illness with goals such as assessing and treating a patient's level of pain and providing support for those experiencing spiritual, psychosocial and related physical issues.
Palliative care patients are not classified as "terminal" or considered to have a life expectancy of six months or less. In contrast, hospice care is limited to those patients who are nearing the end of life and are likely to die within six months should the disease continue on its normal course.
Palliative care accepts patients with complicated or advanced medical conditions without regard to actual life expectancy. Therefore, patients may continue with treatments that could offer a cure and are allowed to participate in research studies.
Palliative care is primarily rendered in hospitals, nursing homes or assisted living facilities. Although it is available in the home, such services are not routinely provided. Hospice care is normally provided in the patient's home but is also available in hospitals, nursing homes or assisted living facilities.
Hospice care is a regularly approved program for payments by Medicare, Medicaid or other insurance carriers; however, specific palliative care insurance benefits must be evaluated by a patient's individual insurance provider.

When is Palliative Care Needed?
"Palliative care is applicable early in the course of an illness, in conjunction with other therapies that are intended to prolong life such as chemotherapy or radiation therapy, and includes those investigations needed to better understand and manage distressing clinical complications," says Fitzsimmons.
Dr. Clay comments, "When current management of symptoms such as pain, shortness of breath, agitation, nausea, vomiting or others is not adequate to sustain a patient's goals regarding quality of life, palliative care may be indicated.
"Chronic illnesses are complicated. The symptoms can be difficult to manage, and often, those symptoms cause a lot of pain. Palliative care is appropriate when patients want to maximize their comfort and minimize their disease symptoms. The goal of palliative care is to help patients maintain their routines and day-to-day life as much as possible."
Patients and families determine when palliative care is appropriate with the input of medical and support professionals. A physician, a patient or a patient's family can request a palliative care consult.
A Dedicated Team
Typically, a palliative care team includes a physician, nurse and social worker who assess the needs of the patient and family and coordinate care. Palliative care may end following a patient's discharge from an acute care setting; however, outpatient services are provided as needed.
Fitzsimmons, who works closely with professionals at Hamilton Medical Center says, "Palliative care is there to run alongside and to enhance the care offered at Hamilton Medical Center when there is a chronic or life-threatening illness. Presently, Hamilton provides consultative services and assessments to a patient and their physician while in the hospital.
"The palliative care team, consisting of a nurse practitioner, a social worker, and a chaplain will meet with the patient and the family to explore their physical symptoms, social, emotional, spiritual and financial needs, their personal priorities, and the losses they are experiencing.
"The team also will consult with the primary care physician regarding his or her concerns and perceived needs. It will make recommendations for care and link the patient to possible needed resources. The palliative care team will also provide palliative care consults to nursing homes, the patients and their families if there are uncontrolled symptoms or unmet needs."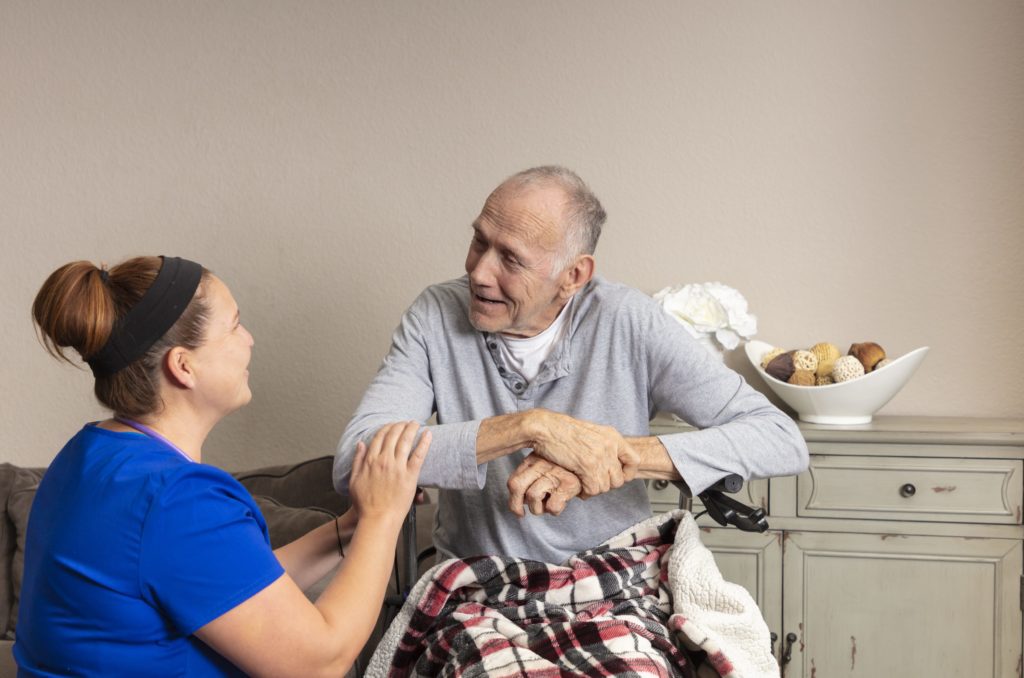 Benefits of Palliative Care
While palliative care may be a relatively new concept among health care professionals, patients and families, its benefits to all concerned are obvious. Filling a potential gap between standard medical care and hospice care, palliative care offers personalized care for patients at many stages of illness. Some patients may not be prepared to accept the limitations of aggressive treatments associated with their illness and the concurrent symptoms of such treatments, while others may be in transition from curative treatment to longer-term care and symptom management. Still other patients may be seeking a more proactive approach to the management of pain and symptoms at each stage of treatment.
Health care professionals and families also benefit from a team approach and the support delivered in an atmosphere of concern for quality of life and the well-being of the patient beyond the physical aspect alone. Symptom management, spiritual care and concern for the welfare of those impacted by serious illness are hallmarks of palliative care.
"Palliative care provides empowerment to the patient and his or her family," relates Fitzsimmons. "It addresses quality of life, not just medical treatment. It allows the patient to direct their health care so that they can meet or pursue their life goals, values and priorities. It looks at the whole person, physical, social, emotional, mental and spiritual. It includes professionals that have specialized training in the treatment of symptom management such as pain, nausea, shortness of breath, loss of appetite, and coping with the losses that occur with a chronic or life-threatening illness."
Studies have shown that involvement in palliative care often leads to not only improved quality of life for both the patient and the caregiver but an extended life expectancy. Palliative care also helps to lower patient financial cost and stress.
A Growing Field
Hospice of Chattanooga, in partnership with the University of Tennessee College of Medicine, now provides a fully accredited Hospice and Palliative Medicine fellowship program, and both hospice and palliative care are fully recognized subspecialties. The fellowship program is designed to train post-graduate physicians to provide patient and family-centered care that is empathetic to patients suffering from chronic, debilitating or life-threatening illnesses, as well as patients near the end of life.
The fellows are taught effective communication skills to provide support, comfort and conflict resolution. They also become experts in providing comprehensive pain and symptom management. Emphasis is placed on working with the patient and family to develop a plan of care based on the patient's needs, values and goals. Palliative care is destined to play a more prominent role in the future of comprehensive treatments for patients diagnosed with life-threatening illnesses. The essence of quality health care is effective treatment for patients supported by comfort and hope. Palliative care offers a viable option in maximizing the positive prospects for a patient's tomorrow.